HISTORY OF COURTS IN JALANDHAR
Seeds of present courts in Jalandhar were sown by Baron Lawrence. After the First Sikh War (1845-46) Baron Lawrence was made Commissioner of the newly annexed district of Jullundur where he subdued hill chiefs, established courts and police postsand curbed female infanticide and Sati. On the Punjab Board of administration he abolished internal duties, introduced a uniform currency and encouraged road and canal construction.

The Board of Administration set up in 1849 was abolished in 1853. the Punjab was put under Chief Commissioner and under him was appointed Judicial Commissioner. Robert Montgomery was the first Judicial were set up in Punjab soon after annexation.

Lord Baron Lawrence
The Judicial Department was set up in the year 1853 to provide the courts with the written law which they could administer. Prior to 1860 there were four kinds of courts in Punjab province, which were presided over by Deputy Commissioner, Assistant Commissioner, Extra Assistant and Tahsildars of Revenue Offices. Jurisdiction of these courts was as under:-

Warren Hastings
| | | |
| --- | --- | --- |
| Sr. No. | Name of Court | Functions |
| 1 | Deputy Commissioner | Tried all the suits exceeding valued of the Rs. 1000/- |
| 2 | Assistant Commissioner | Tried suits upto Rs. 1000/- |
| 3 | Extra Assistant Commissioner | Performed duties assigned to Assistant Magistrate, Depute Collectors and Subordinate Judges in other provinces. |
| 4 | Tehsildars | Tried suits not exceeding Rs.300/- |
In 1860 the Government of India passed an Act for Establishment of Courts in all the provinces for recovering small debts and demands. Accordingly, small Causes Courts were established. Sh. R.S. Mitra was appointed as Judge Small Cause court to try suits not exceeding Rs. 500/- in value in Military Cantonment of Jalandhar.

Cornwallis
With the enforcement of Indian Penal Code and Indian Civil Procedure Code in Punjab, Civil and Criminal courts were established in District Jalandhar. In 1875 the nucleus of a separate judiciary was created to relieve the burden of executive officers in Districts and tehsils where litigation was the heaviest. At that time there were six Munsifs (Judicial) for the District Jullundur, three for District Head Quarter, one each for Nakodar, Phillaur and Nawanshahar. In addition to the munsifs the Honorary Magistrates and Judges were also appointed. They were vested with Civil, Criminal and Summary powers to perform the judicial work. Following were the Honorary Magistrates and Judges:-

Lord Wellesely
Name of gentleman exercising Judicial Powers.

Nature of

Criminal powers.

Jurisdiction

Civil powers.

Exercised

Powers exercised as a Bench, Section 15,Criminal procedure Code.

Local area of jurisdiction.

Remarks.

1

2

3

4

5

6

Thakur Dass,Lala

2nd class, 25.1.11.

...

2nd class 25.1.11.

Within the local limits of the Jullundur City.
As defined in para.3 of Punjab Gazette Notification No.912, dated 8.3.73.
Niazm-ud-din,Mihr

07/05/83

...

2nd class. 7.5.83.

}
}

Rala Ram,Lala....

04/06/89

...

2nd class.4.6.89

}Jullundur City
}
Summary power.
Ghulam Hussain Khan
Sardar Bahadur Capatin
Salig Ram,Lala....

24.4.80

25.9.89

...

...

2nd class 24.4.89
2nd class 25.9.89.

}
}
}
}

Mahbub Bakhsh,Sheikh

10/02/92

...

2nd class 10.2.92.

Jullundur City.

Ahmal Shah,Khan Bahadur,Khan.

Ist Class 1.2.07.

Ist Class 1.2.07

...

Jullundur Tehsil and the Jullundur District respecitvely
Sub Judge.
Charanjit Singh, Sardar, Ahluwalia.

2nd Class 2.1.2.10.

...

...

Jullundur District.

Balwant Singh,Sardar of Moron.

2nd class.24.5.09

...

...

Phillaur Tehsil.

Fakhr-ud-Din Ahmad, Kh n of Dogri

2nd Class. 4.10.11.

...

...

Jullundur Tehsil.

Kuldip Singh Sardar...

3rd Class. 25.10.10.

...

...

Nawanshahr Tehsil.
The building for court house of the of District and Sessions Judge, Jalandhar was constructed in the year 1866. The building was consisting of one main Court room alongwith Suitor Shed, Cowkidar's Quarters, Servants Quarters, Godowns, Sweeper Quarter, Latrine, Bar Room, Cook House and Well. Sh. A.H. Pakar was appointed as Sessions Judge on 3.3.1909 vide notification No. 344 C.
With the implementation of The East Punjab Urban Rent Restriction Act 1945 the Rent Controllers were appointed to decide the eviction petition for the urban areas of Punjab.
Originally the Civil Courts of Jalandhar were located in abadi, settled between Hoshiarpur Adda Crossing and Tanda Road Crossing. The area is called Mohalla Kacherian. In the second stage of construction the courts were shifted in a building near hotel Plaza.
GLIMPSES OF OLD COURTS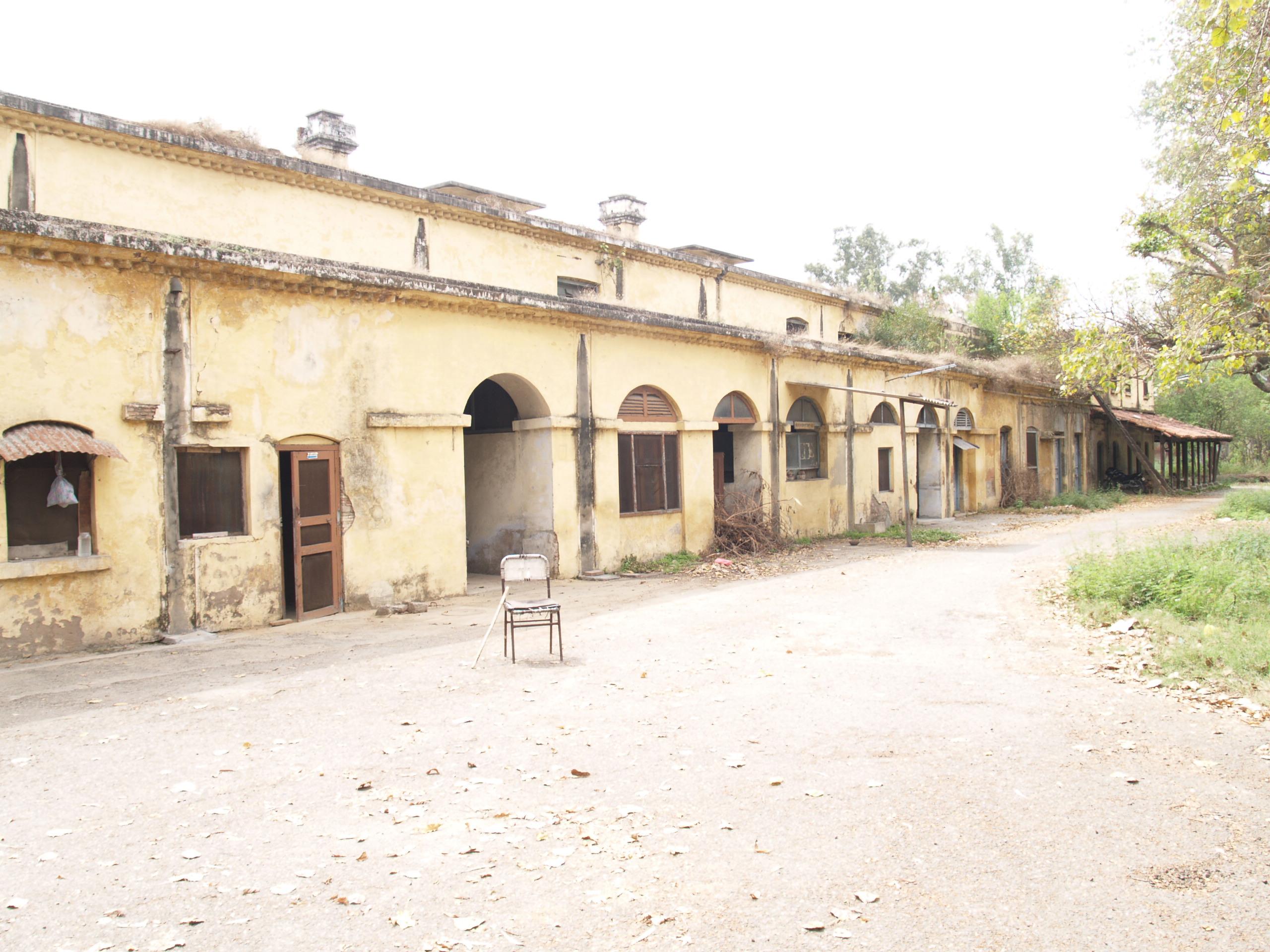 In the Third stage of construction of courts, New Courts complex was constructed. These courts were inaugurated in the year 1966.
GLIMPSES OF NEW COURTS COMPLEX
In the last stage of construction of Civil Courts at Jalandhar, Judicial Courts Complex was constructed near BMC Chowk. The foundation ceremony of Judicial Court Complex Jalandhar was laid down by Hon'ble Mr. (J) S.P. Kurdukar, Chief Justice, High Court of Punjab and Haryana on 27.01.1996. Hon'ble Mr. Harcharan Singh Brar, Chief Minister Punjab presided over the ceremony.
The judicial court complex Jalandhar was inaugurated by Hon'ble Mr. (J) Binod Kumar Roy, Chief Justice, Punjab and Haryana High Court on 23.05.2004. The function was presided over by Mr. Justice K.S. Grewal, Judge, Punjab and Haryana High Court.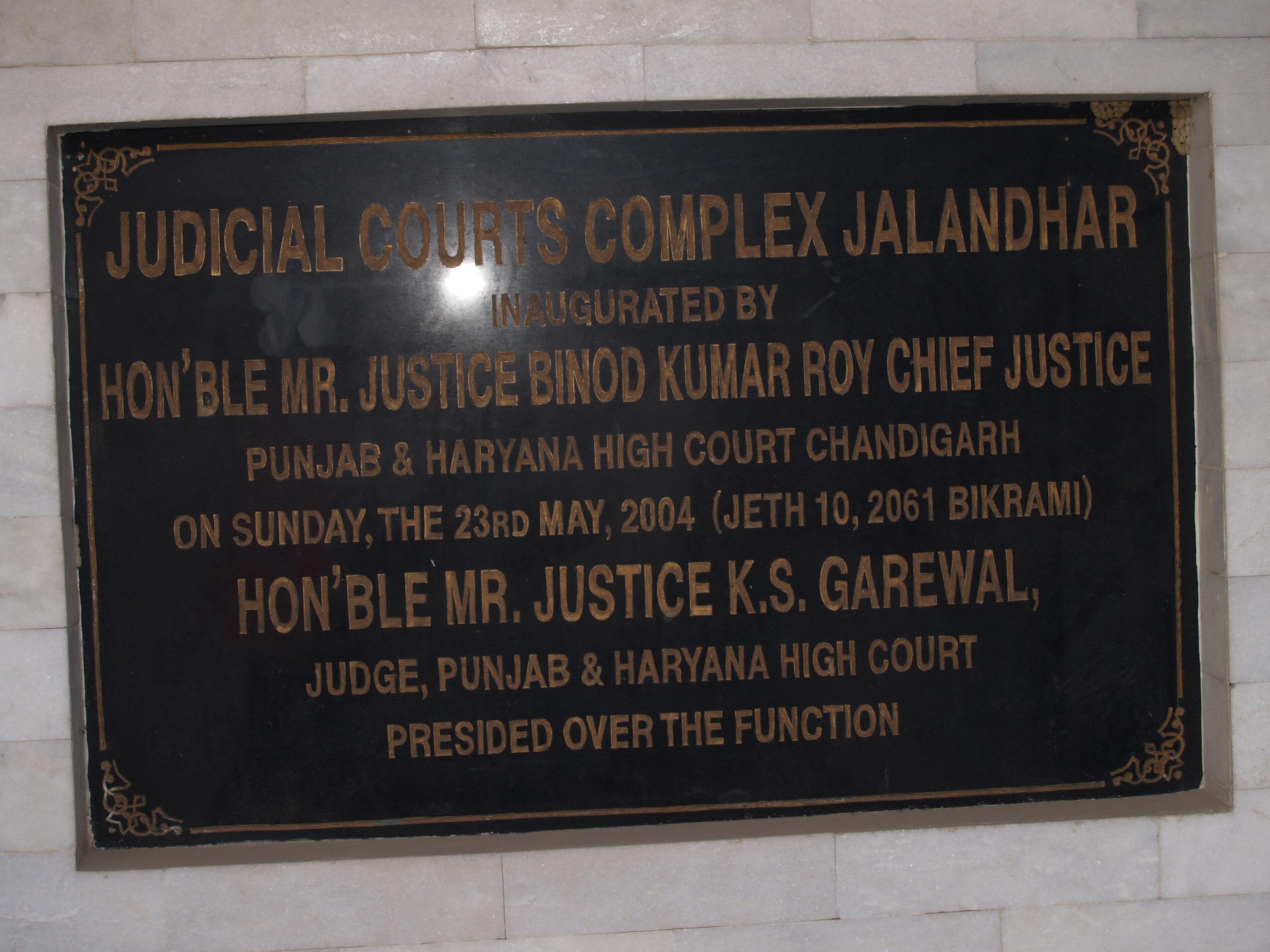 GLIMPSES OF JUDICIAL COURT COMPLEX